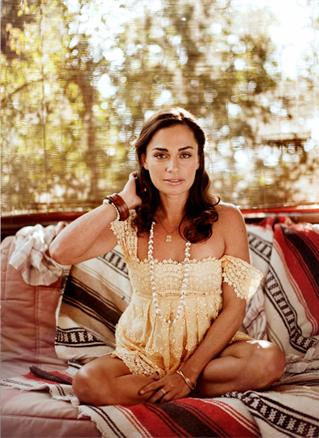 Born on June 1, 1979 in Aspen, Colorado, Savannah Jane Buffett had a passport before she could walk, traveling the world with her parents, one of whom is the legendary singer/songwriter Jimmy Buffett. Quickly getting used to the get-up-and-go lifestyle, Savannah spent her childhood moving around, living in New York, Nashville, Malibu, Aspen, St. Barths and many tour buses, with a wanderlust emerging that has stayed with her to this day. It became apparent early on that she had a gift for storytelling which her father helped to develop by working with her on two well selling children's books, "The Jolly Man" (written when Savannah was 8) and "Trouble Dolls."
As a teen, Savannah gained admittance to a prestigious performing arts high school in South Florida where she studied theatre. After graduating she moved to California to attend Pitzer College, a small liberal arts school, but after a few years and a growing involvement in the LA music scene Savannah left school and moved to Hollywood. Not surprisingly, she found herself quickly in demand, consulting for artists, working in A&R, DJ-ing and even living with members of Maroon 5 and Phantom Planet acting as a "musical den mother" of sorts. "It was a terrific time, there were tons of cool, developing musicians, and we just created this very low-key, vibe-y scene in this house we were living in. We had a rehearsal space, and built a studio in the backyard. It encouraged people to feel free to explore, jam and share all types of music."
With her natural instinct, knowledge and sixth sense, Savannah's role as a tastemaker on the LA music scene was solidified. Between helping budding acts get noticed, DJ-ing and promoting parties with a laid back vibe, while spending most of her free time traveling the world to exotic locations like Tanzania, Jamaica, and the Galapagos she had found her calling.
Savannah moved to Miami to study Film and English at the University of Miami. It was during this time that she started producing a few small shows of her favorite music for Radio Margaritaville, which at the time was only available on the Internet. Satellite's Sirius/XM Radio later picked up the station, and Savannah, a natural conversationalist with a passion for music, developed her own show called the Savannah Daydreamin' Radio Hour, which still airs today. With the success of the radio show, Savannah later began touring with her father on a regular basis, hosting live pre-concert broadcasts where she played music and interviewed guests, fans and musicians. She began sharing her own eclectic musical taste, travel ideas, fashion tips and experiences, leading Savannah to be dubbed a "Lifestylist." Her goal is to take others on a journey to new discoveries, thrilled with the idea of exposing people to opportunities they may not have had a chance to learn about otherwise. "For me, being a 'lifestylist" means helping people to enjoy life – whether it is via music, fashion, athletics, travel or hosting a party, it's all about finding ways to expand someone's horizons. While I acknowledge I have been personally blessed, this isn't about luxury; it's about living your life in a positive way in both body, mind, and spirit."
Recently Savannah has been consulting on various musical projects, including music supervision for the motion picture Hoot. She has also started her own apparel brand, A1A, which is inspired by the early days of her father's music as well as the state she now calls home, Florida. Along with her passion for music and art, Savannah is steadfast in her belief that it can also connect people in a very powerful way. She has lent her time and energy to Playing for Change ( www.playingforchange.com ), an organization that aims to inspire, connect and bring peace to the world through music. "I got involved after my dad passed along a video of "Stand by Me" being sang by various musicians from all over the world. I was immediately inspired and intrigued, as it incorporated three things I love so much: travel, music, and helping to make a better tomorrow. They are an amazing organization and we have been working on some great projects together. It brings me joy to continue spreading their message that through the power of music, you really can change the world. "
Savannah's experiences with writing, broadcasting, music and travel have recently lead her to yet another adventure, as the host of a new travel show Ex-Pats on YouTube where she travels the globe meeting extraordinary people who life left their homes and native country to live the life of their dreams in foreign lands.